THE SET | Lauren Tulp Cichocki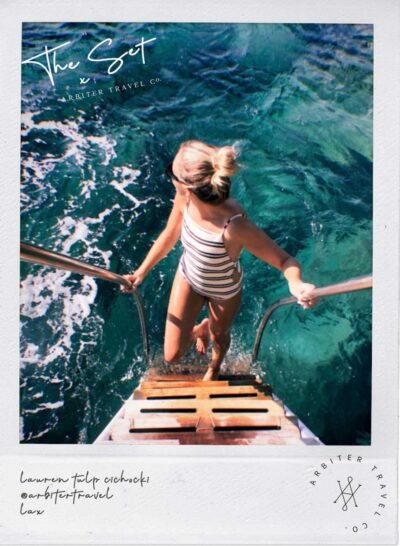 THE SET (as in, jetset) is a blog series that gives a peek into the travel styles of the jetsetters we adore and admire… Because we're all a little voyeuristic sometimes – and who isn't looking for a little distraction right now?
Up first is… me! Read on to get to know me a bit more, and stay tuned for future weeks with cooler people.
NAME:  Lauren Tulp Cichocki /

@arbitertravel
OCCUPATION:  Founder of Arbiter Travel Co., a full-service luxury travel consultancy. Mama to Henry (17 months).
HOME AIRPORT: LAX
ASTROLOGY:
Double Scorpio
AISLE OR WINDOW: Window
CARRY-ON OR CHECK: Try to carry-on but usually check
CARRY-ON ESSENTIAL: Face mask and a liter of Smartwater
TRAVELING SHOES: Nikes (usually), or boots in the winter. Never sandals (ew).
CAFFEINE FIX: Tea (iced black in summer, Chai latte in winter)
MOVIE OR BOOK: Magazines + books on my iPhone
AIRLINE: Delta, but perpetually stuck with United (to EWR)
AIRPLANE DRINK: White wine or ginger ale
REAL WORLD DRINK: Extra spicy margarita or extra dirty martini
UNPACK OR LIVE OUT OF SUITCASE: Unpack, always. Always.
ALWAYS FORGET: Toothpaste (why don't hotels include it with bathroom amenities??)
SOUVENIR: Art
ROOM SERVICE ORDER: Grilled cheese and fries
EXERCISE ON THE GO: Almost never
GUILTY PLEASURE: Post-redeye massage and/or blowout on arrival
PRO TIP: Even if you can't sleep on the plane, altering your light exposure to reflect the time zone you are flying to helps get adjusted. And packing cubes.
BOUTIQUE HOTEL OR SLAVE TO POINTS: Boutique, but love a luxury brand
CITY OR COUNTRY: The best trips have a bit of both
MOUNTAINS OR SEA: Sea, usually
OCEAN OR POOL: Ocean
WINTER IN: Deer Valley, with Aspen + Switzerland at top of my hit list
SUMMER IN: Spain, with South of France at top of my hit list
FAVORITE AMERICAN CITY: Charleston
FAVORITE INTERNATIONAL CITY: Paris
DREAM TRAVEL COMPANION: Jackie Kennedy and/or CBK (imagine the shopping!)
HONEYMOONED IN: Maldives + Paris
HOTEL I WISH I LIVED IN: San Ysidro Ranch, Torralbenc, Laucala Island, Aman Venice
HOTEL LOBBY: Four Seasons George V, Mercer Seville, The Cloister at Sea Island
HOTEL BAR: The Ritz Paris, Four Seasons Surf Club at Surfside, Le Sirenuse, Belmond Hotel Cipriani
HOTEL POOL: Laucala Island, One&Only Palmilla, Belmond Hotel Caruso, Canaves Oia, Six Senses Laamu
DINING EXPERIENCE: Frenchie (Paris), Arbol (Las Ventanas in Cabo), La Guarida (Havana), Walker D'Plank (Kokomo Island in Fiji), La Dama (Barcelona)
ON MY RADAR: Four Seasons Los Cabos at Costa Palmas, Cheval Blanc Paris, Aman New York City, Bhutan
BUCKET LIST: Japan, Rwanda, India, Amangiri
TOP TRIP: South Africa + Mozambique
LAST CHECKED INTO: Ojai Valley Inn
UP NEXT: Cabo 
Inspired to take a trip of your own? Get in touch and go!
Tags: The Set, Q+A, interview, travel style, lauren tulp cichocki, ltc, Arbiter Travel Co., questionnaire

Categorised in: Travel, INSPIRATION, STORIES, INSIDERS