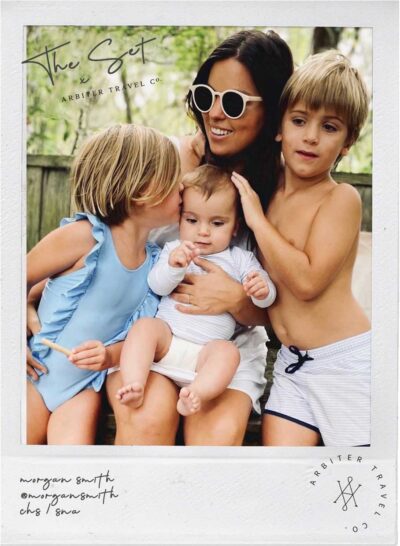 Meet Morgan Smith, founder of minnow swim (which is basically the only kids' swimwear line you need to know about if you ask me). After growing up in Southern California (you might recognize her from Laguna Beach), Morgan now lives in Charleston with her adorable family, and designs collection after collection of amazing swimsuits and fun capsule collaborations. (Literally, everytime I tell my husband it's the last order I'm placing, they go and launch something else I have to have for Henry.) I recently had the honor of partnering with minnow on a travel guide for their Resort campaign (a true dream come true brand partnership for Arbiter!). I'm obviously a huge fan, and was beyond excited to interview Morgan for The Set! Read on to learn more about Morgan and her travel style…
THE SET (as in, jetset) is a blog series that gives a peek into the travel styles of the jetsetters we adore and admire… Because we're all a little voyeuristic sometimes – and who isn't looking for a little distraction right now?
HOME AIRPORT: CHS or SNA
WHAT'S YOUR SIGN: Scorpio
AISLE OR WINDOW: Window to sleep, Aisle with baby 🙂
CARRY-ON OR CHECK: Check
LUGGAGE: Away
MOVIE OR BOOK: Movie, it feels like such a treat bc I am always so behind on new releases
AIRLINE: Delta, got to keep the status 🙂
AIRPLANE DRINK: Ginger Ale
REAL WORLD DRINK: Sparkling Waters – Spindrift or Bubbly
UNPACK OR LIVE OUT OF SUITCASE: Unpack
ALWAYS FORGET: Kid's shoes or socks, our last trip I forgot all the baby's shoes + socks in brisk weather, barefoot the entire time = third child!
SOUVENIR: Usually art or something I can use / display in our home, ie: ornament
ROOM SERVICE ORDER: One of everything on the breakfast menu!
EXERCISE ON THE GO: Stroller walks
PRO TIP: Have expectations low when traveling with kids, and you'll often be pleasantly surprised!
BOUTIQUE HOTEL OR SLAVE TO POINTS: Boutique hotel is part of the experience for me.
MOUNTAINS OR SEA: Sea
OCEAN OR POOL: Ocean
FAVORITE SUMMER SPOT: Everywhere! I get so much more excited for summer trips, naturally.
FAVORITE AMERICAN CITY: Charleston is so special which is why we moved here, it packs so much punch for a small city.
FAVORITE INTERNATIONAL CITY: The Amalfi Coast is truly my favorite spot in the world, Paris is the most beautiful, and London + Amsterdam are cities I would love to live in.
DREAM TRAVEL COMPANION: My family!
HONEYMOONED IN: St. Lucia
HOTEL I WISH I LIVED IN: Oh gosh, where do I start! Right now, Playa Grande Beach Club.
HOTEL POOL: My kids would say the Grand Wailea on Maui, I'll say Pelican Hill, Newport Coast
DINING EXPERIENCE: The Barn at Blackberry Farm
ON MY RADAR: Bahamas (inspo for Spring '21 collection)
BUCKET LIST: Mexico City, Bali, Buenos Aires
TOP TRIP: Lake Como (with kids!) — stay at Grand Hotel Tremezzo… Candy bar in the lobby, gifted teddy bears on the kid's beds, mini robes + mini slippers, it was surprisingly so kid-friendly! 
LAST CHECKED INTO: Blackberry Farm – Walland, TN
UP NEXT: Costa Rica for my mom's 60th
Inspired to take a trip of your own? Get in touch and go!
Tags: laguna beach, The Set, Q+A, interview, travel style, questionnaire, morgan smith, minnow, minnow swim, charleston

Categorised in: Travel, INSPIRATION, STORIES, INSIDERS