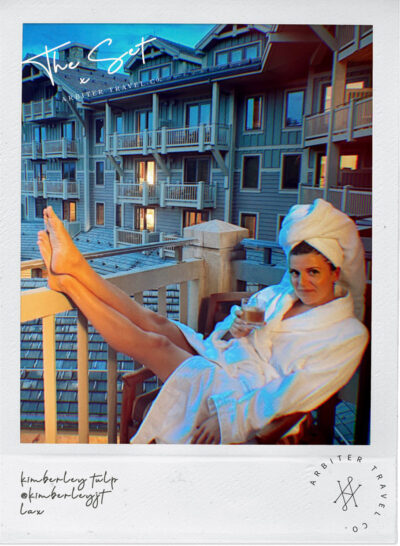 Meet Kimberley Tulp, Director of Human Resources for Hermès (ever heard of it?), girl-about-town, master of puns, co-pilot of The Great Arbiter Road Trip, and my little sister-slash-best friend. Like me, Kimberley grew up on the East Coast. She lived in New York until three years ago, when she missed me too much and packed her bags and moved to L.A. Read on to learn more about Kimberley and her travel style…
THE SET (as in, jetset) is a blog series that gives a peek into the travel styles of the jetsetters we adore and admire… Because we're all a little voyeuristic sometimes – and who isn't looking for a little distraction right now?
OCCUPATION: Director of Human Resources for Hermès
HOME AIRPORT: LAX
ASTROLOGY: Aquarius
AISLE OR WINDOW: Aisle
CARRY-ON OR CHECK: Carry-on for any trips 1 week or under, otherwise I've gotta check
CARRY-ON ESSENTIAL: A cashmere travel blanket and warm socks
TRAVELING SHOES: Whatever would've taken the most space in my suitcase- usually Nike running shoes or boots.
CAFFEINE FIX: Cold brew, black
MOVIE OR BOOK: Try to watch The Biggest Little Farm on an airplane and not cry, I dare you.
AIRLINE: Delta
AIRPLANE DRINK: A sparkling wine or whiskey rocks
REAL WORLD DRINK: Champagne or High West Old Fashioned
UNPACK OR LIVE OUT OF SUITCASE: If longer than 2 nights in one place, then I unpack. I'm not an animal.
ALWAYS PACK: Too many undies and not enough jackets.
ALWAYS FORGET: SOMETHING CRITICAL.
SOUVENIR: I collect coasters from bars I've visited around the world. I may or may not have a collection of *borrowed* branded glassware from my favorite spots, too.
ROOM SERVICE ORDER: A bottle of Cab.
EXERCISE ON THE GO: I love to explore new cities with a morning run, getting lost walking around, and biking
GUILTY PLEASURE: French fries and sparking rosé, or pommes frites et champagne in Pari
PRO TIP: You will never go wrong when you're #bookedbyarbiter
BOUTIQUE HOTEL OR SLAVE TO POINTS: Love a unique boutique property
CITY OR COUNTRY: My best trips have been city first, followed by relaxing in the country or beachside
MOUNTAINS OR SEA: Cliffside sea [see: Amalfi Coast; Big Sur; Block Island, RI]
OCEAN OR POOL: Ocean, but live for a private en suite pool.
WINTER IN: British Virgin Islands…St. Barth's is high on the list to check out next!
SUMMER IN: There's nothing like a New England summer — Martha's Vineyard is a favorite.
FAVORITE AMERICAN CITY: Jackson Hole, WY
FAVORITE INTERNATIONAL CITY: Florence
DREAM TRAVEL COMPANION: I've heard boyfriends are cool.
HONEYMOONED IN: *I will* honeymoon at an Aman property.
DINING EXPERIENCE: noma in Copenhagen
ON MY RADAR: Lagos, Portugal
BUCKET LIST: Japan & Southeast Asia. Amankila in Bali is calling my name.
TOP TRIP: South Africa – Cape Town, Mozambique and safari at Ulusaba.
UP NEXT: Eyeing Hotel San Cristobal for a birthday trip in February
Inspired to take a trip of your own? Get in touch and go!
Tags: The Set, Q+A, interview, travel style, questionnaire, kimberley tulp

Categorised in: Travel, INSPIRATION, STORIES, INSIDERS