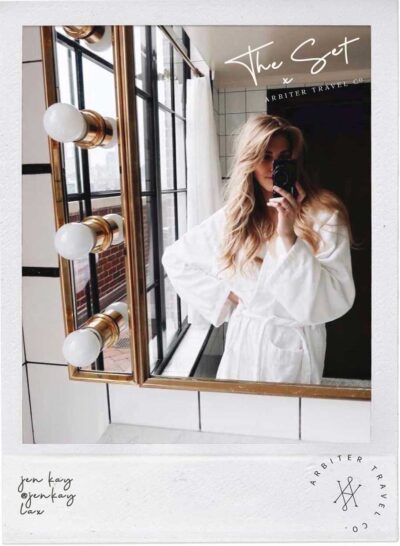 Meet Jen Kay, commercial photographer and mama — and one of my best mom friends (our sons had the same due date!) that I couldn't have gotten through the first year without! Like me, Jen is an East Coast girl who now lives in L.A. with her husband and son. She is one of the most inspiring people to follow on Instagram (check her out if you're not already following)… While right now her focus is on renovating their amazing new home, pre-COVD (and pre-baby), she was quite the jetsetter too. Read on to learn more about Jen and her travel style…
THE SET (as in, jetset) is a blog series that gives a peek into the travel styles of the jetsetters we adore and admire… Because we're all a little voyeuristic sometimes – and who isn't looking for a little distraction right now?
NAME:  Jen Kay /

@jenkay
OCCUPATION:  Commercial Photographer
HOME AIRPORT: For most of my life it was JFK but now it's LAX
ASTROLOGY:
Aries
AISLE OR WINDOW:
Window – I can't risk missing the visuals! I'll never forget flying over Innsbruck, Austria on the way back from Norway. 
CARRY-ON OR CHECK: Carry-on. I pack light. I'm also impatient.
LUGGAGE: Tumi Nerd. Super durable.
CARRY-ON ESSENTIAL: Water. Water. Water!
TRAVELING SHOES: Comfortable ones. You wouldn't ever find heels in my suitcase.
CAFFEINE FIX: Half Caf Cappucino. I'm not huge on Caffeine but I love a little kick.
MOVIE OR BOOK: I read books 10x faster than normal on a plane so I try to take advantage of that. With a toddler these days however, I don't really have a moment for either 😉
AIRLINE: Lufthansa
AIRPLANE DRINK: Water. Alcohol on an airplane is almost always regrettable.
REAL WORLD DRINK: Spicy Mezcal, Gin Gimlets, or spritz.
UNPACK OR LIVE OUT OF SUITCASE: Guilty of living out of a suitcase. Who wants to waste vacation time organizing!
ALWAYS PACK: My camera.
ALWAYS FORGET: Something of my son's! Babies/toddlers have lots of accessories.
SOUVENIR: Something for my home or for a friend. Size never deters me 😉
ROOM SERVICE ORDER: One of everything, please. Excess always wins. 
EXERCISE ON THE GO: Unless it's a hike, no. You might see pigs fly before you'd see me in a hotel gym – unless there's a sauna.
GUILTY PLEASURE: I don't feel guilty about my pleasures 😉
PRO TIP: Learn to pack light. The only way to learn is to travel more.
BOUTIQUE HOTEL OR SLAVE TO POINTS: Boutique hotel but use those points when you can! 
CITY OR COUNTRY: Country because I'm a nature girl. But I do love a good Paris or London trip.
MOUNTAINS OR SEA: I could never ever pick. Both are so special to me.
OCEAN OR POOL: Ocean, always.
WINTER IN: Finland
SUMMER IN: My summer house on a barrier beach off of Long Island. Also Norway is pure magic in the summer.
FAVORITE AMERICAN CITY: San Francisco
FAVORITE INTERNATIONAL CITY: London. I'd live there… in Marlyebone… if I could convince my husband!
DREAM TRAVEL COMPANION: My late grandmother. We traveled a lot together but the most special trip was when she took me to Bermuda.
HONEYMOONED IN: Puglia, Italy
HOTEL I WISH I LIVED IN: The Plaza. I'll never get over my childhood love of Eloise!
HOTEL LOBBY: Be Tulum
HOTEL BAR: I don't spend a lot of time in them.
HOTEL POOL: This is really not a cool answer but now that I'm a mom I'd say the pool at Atlantis in the Bahamas.
DINING EXPERIENCE: Hands down the meal we had at an olive farm, in the olive trees, in Italy.
ON MY RADAR: A mini vacation to Big Sur / Ventana
BUCKET LIST: Villa Feltrinelli
TOP TRIP: I will never get over how incredible Norway is. My family is Norwegian and I just have a special love.
LAST CHECKED INTO: I can't even remember… it's been a long long time between having a baby and COVID!
UP NEXT: New Zealand or Austria
Inspired to take a trip of your own? Get in touch and go!
Tags: The Set, Q+A, interview, travel style, questionnaire, jen kay

Categorised in: Travel, INSPIRATION, STORIES, INSIDERS