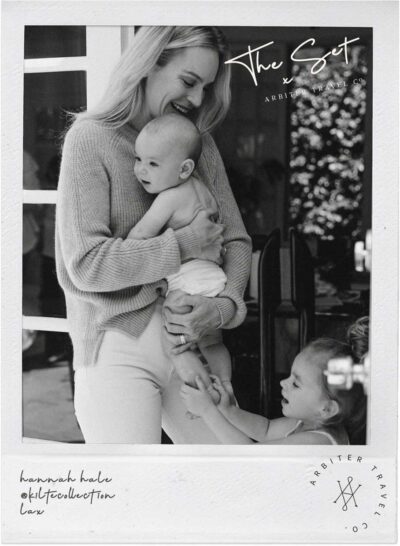 Meet Hannah Hale, CEO + Founder of the just-launched-this-week Kilte — "a line of luxury knitwear designed and built to go with you from morning routines to evenings out and everywhere in-between." I am already super excited about how perfect these cozy luxe knits will be for flying in a post-COVID world. I also love that Hannah, a mother of two, founded her business on the principle of providing flexible work life to its [all] female employees. Read on to learn more about Hannah and her travel style!
THE SET (as in, jetset) is a blog series that gives a peek into the travel styles of the jetsetters we adore and admire… Because we're all a little voyeuristic sometimes – and who isn't looking for a little distraction right now?
HOME AIRPORT: LAX
AISLE OR WINDOW: Aisle (bathroom breaks + major fear of flying!) 
CARRY-ON OR CHECK: Carry-on
LUGGAGE: TUMI
CARRY-ON ESSENTIAL: Chapstick, US Weekly. Ideally not my children 😉
CAFFEINE FIX: SBUX almond milk latte
MOVIE OR BOOK: Book… currently reading Dune
AIRLINE: Delta, duh
AIRPLANE DRINK: H2O
REAL WORLD DRINK: Spicy Skinny Margarita
UNPACK OR LIVE OUT OF SUITCASE: Unpack + packing cubes. totally OCD!
ALWAYS PACK: Running shoes
ALWAYS FORGET: Phone charger
SOUVENIR: Clothes… always clothes
ROOM SERVICE ORDER: Burger and fries
EXERCISE ON THE GO: Yoga or exploring
GUILTY PLEASURE: KUWTK #RIP
PRO TIP: Travel light!
BOUTIQUE HOTEL OR SLAVE TO POINTS: Boutique. Points confuse me 😉
CITY OR COUNTRY: Country
MOUNTAINS OR SEA: Dare I say both?
OCEAN OR POOL: I want to say ocean, but pool is reality
WINTER IN: Sun Valley
SUMMER IN: Europe
FAVORITE AMERICAN CITY: Jackson Hole
FAVORITE INTERNATIONAL CITY: Ravello
DREAM TRAVEL COMPANION: Jimmy Fallon
HONEYMOONED IN: Africa
HOTEL I WISH I LIVED IN: Upper House
HOTEL LOBBY: Singita Sasakwa Lodge
HOTEL BAR: Hotel Bel-Air
HOTEL POOL: Caruso
DINING EXPERIENCE: Liberty Private Works, Hong Kong
ON MY RADAR: Danube River Cruise
BUCKET LIST: Golden Triangle
TOP TRIP: African Safari
LAST CHECKED INTO: The Montage Laguna Beach
UP NEXT: Anywhere?! Hopefully, Sun Valley
Inspired to take a trip of your own? Get in touch and go!
Tags: The Set, Q+A, interview, travel style, questionnaire, hannah hale, kilte collection, kilte

Categorised in: Travel, INSPIRATION, STORIES, INSIDERS