THE SET | Courtney DeBeikes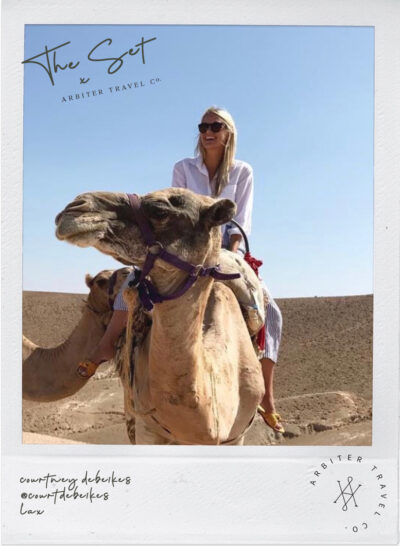 Meet Courtney DeBeikes, real estate boss lady and mama to Duke — and one of my very best girlfriends + favorite travel companions. Court is one of those always-stylish, always-put-together people (it would almost be annoying if she wasn't also so genuinely cool, fun, funny, and have a heart of gold to boot). She has the best taste and is always up for adventure, so you will love reading about her travel style!
THE SET (as in, jetset) is a blog series that gives a peek into the travel styles of the jetsetters we adore and admire… Because we're all a little voyeuristic sometimes – and who isn't looking for a little distraction right now?
OCCUPATION: Project Manager for Real Estate Development Firm in Los Angeles  + Mama
HOME AIRPORT: LAX
WHAT'S YOUR SIGN: Leo
AISLE OR WINDOW: Window
CARRY-ON OR CHECK: Always carry-on except when flying with ski gear
LUGGAGE: Away
CARRY-ON ESSENTIAL: Water bottle + sweater
TRAVELING SHOES: Tennis shoe in spring/summer + boots in fall/winter
CAFFEINE FIX: Iced oak milk latte
MOVIE OR BOOK: Magazines
AIRLINE: Delta (domestic), Cathay Pacific (international)
AIRPLANE DRINK: Ginger ale or water
REAL WORLD DRINK: Spicy Margarita
UNPACK OR LIVE OUT OF SUITCASE: (Embarrassingly) Live out of suitcase but on occasion my dresses get hung
ALWAYS PACK: Havaiana sandals, my most versatile shoe
ALWAYS FORGET: Basic toiletries
SOUVENIR: Art or home goods
ROOM SERVICE ORDER: Anything off the kids menu
EXERCISE ON THE GO: Do morning walks count?
GUILTY PLEASURE: Spa treatment
PRO TIP: Always pack swimsuit in your carry-on in case your main luggage gets lost or you arrive early to your destination.
BOUTIQUE HOTEL OR SLAVE TO POINTS: Both. We generally use points in places we've been before or plan to explore throughout the days/ not spend a lot of time in. Boutique for resorts.
CITY OR COUNTRY: City
MOUNTAINS OR SEA: Too hard to choose.
OCEAN OR POOL: Ocean
WINTER DESTINATION: Deer Valley, Utah
SUMMER SPOT: Europe or Hawaii
FAVORITE AMERICAN CITY: New York
FAVORITE INTERNATIONAL CITY: Paris
DREAM TRAVEL COMPANION: Lauren Cicocki! Who else than the expert?
HONEYMOONED IN: Hong Kong + Bali
HOTEL LOBBY: La Mamounia Marrakech
HOTEL BAR: Beach bar at Mauna Kea
DINING EXPERIENCE: Alma (Lisbon), Frenchie (Paris)
ON MY RADAR: South of France & Mexico City
BUCKET LIST: India + Nepal
TOP TRIP: Ischia, Italy. #BookedbyArbiter, Mezzatorre Hotel is by far our favorite place we have ever visited. And we would have never known about it without the help of Lauren! From my childhood, South African safari is by far at the top of the list.
UP NEXT: Deer Valley
Inspired to take a trip of your own? Get in touch and go!
Tags: The Set, Q+A, interview, travel style, questionnaire, Courtney DeBeikes

Categorised in: Travel, INSPIRATION, STORIES, INSIDERS