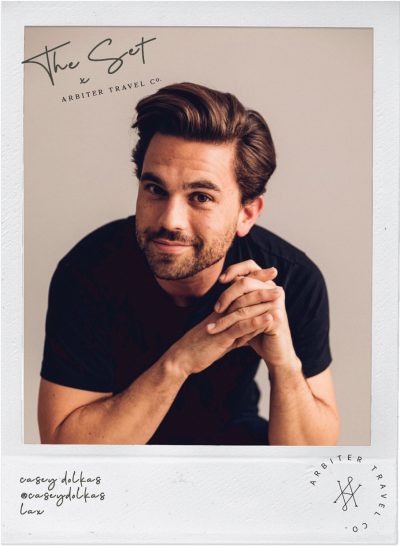 Meet Casey Dolkas, the very first client to be #BookedbyArbiter, and the very first Arbiter Insider (check out his guide to Bali HERE). Casey is a professional experience planner by day (and actor by night), so he obviously knows what to look for when it comes to good times. He is one of my favorite people in the world – and he makes a dream travel companion with his joie de vivre and positive attitude. I love any chance for a CRD x ATC collaboration, so was very excited to have him do The Set! Read on to learn more about his travel style…
THE SET (as in, jetset) is a blog series that gives a peek into the travel styles of the jetsetters we adore and admire… Because we're all a little voyeuristic sometimes – and who isn't looking for a little distraction right now?
OCCUPATION: Director of Brand Experience at NeueHouse + Actor
HOME AIRPORT: LAX (though Burbank is the best)
WHAT'S YOUR SIGN: Taurus!
AISLE OR WINDOW: Window please
CARRY-ON OR CHECK: Carry-on
CARRY-ON ESSENTIAL: Headphones
TRAVELING SHOES: Nikes
CAFFEINE FIX: Iced oat milk latte
MOVIE OR BOOK: Movie
AIRLINE: Southwest for domestic
AIRPLANE DRINK: Water + Whiskey Diet Coke
REAL WORLD DRINK: Water + Belvedere martini up with a twist
UNPACK OR LIVE OUT OF SUITCASE: Unpack
ALWAYS FORGET: Underwear
SOUVENIR: Decorative blanket
ROOM SERVICE ORDER: Nachos, pancakes, cheeseburger, and always fries with ketchup and mustard
EXERCISE ON THE GO: Nice long walk + dance party
GUILTY PLEASURE: Chocolate chip cookies
PRO TIP: Always be playing music
BOUTIQUE HOTEL OR SLAVE TO POINTS: Hmm maybe boutique, but also love resort life.
CITY OR COUNTRY: Both!
MOUNTAINS OR SEA: Definitely sea
OCEAN OR POOL: Ocean
WINTER DESTINATION: Somewhere warm and sunny
SUMMER SPOT: Cabo & Mykonos
FAVORITE AMERICAN CITY: NYC (I love ATX too!)
FAVORITE INTERNATIONAL CITY: Mykonos + Oxford
DREAM TRAVEL COMPANION: My fiancée, Madison soon-to-be Dolkas
(WILL) HONEYMOON IN: I say Tokyo to Bali. She says all over Italy and south of France. Can we have it all, ATC?
HOTEL LOBBY: See above.
DINING EXPERIENCE: Dancing on tables at Sea Satin in Mykonos and anywhere in Positano
ON MY RADAR: Tokyo, Ibiza, Columbia, Thailand, New Orleans
BUCKET LIST: Being on location shooting a film at any locations listed in this questionnaire.
TOP TRIP: Studying abroad at Oxford; + Barcelona/Mykonos/Positano Summer 2019
LAST CHECKED INTO: Currently writing this from the Best Western on the Oklahoma/Arkansas border.
UP NEXT: After Oklahoma… Back to Mexico! (I like to keep it at every few months).
Inspired to take a trip of your own? Get in touch and go!
Tags: The Set, Q+A, interview, travel style, questionnaire, casey dolkas, casey ryan dolkas

Categorised in: Travel, INSPIRATION, STORIES, INSIDERS