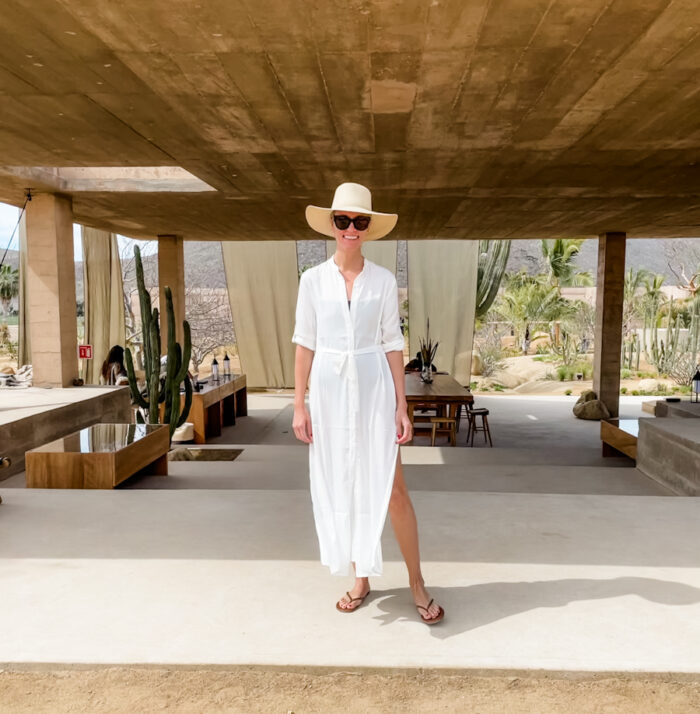 Last week, I was fortunate enough to have been invited to spend three nights experiencing the brand-new Paradero Todos Santos in Baja California Sur. The hotel has barely been open a month (since February 1st, 2021), so I was one of the first guests to stay.
Paradero was founded with the idea of being the first "experience-inclusive" hotel brand in Mexico (rates include one Experience per guest per day). It's not a wellness resort (not to worry, you will not run out of tequila), but definitely not a party spot either, and there is an overall vibe that focuses on well-being and balance. From the moment you walk through the entrance, there's a feeling of calm (bonus, if you're #bookedbyarbiter, you will receive an exclusive healing ritual ceremony when you arrive as well, so will feel even more zen).
While Todos Santos is known for its surf, Paradero is not a beach hotel – it's more of a desert oasis, but still a quick drive to the coast, which the resort can facilitate for you. And while Todos Santos is only about an hour north of Cabo, it feels nothing like it. It's part surf-town, part artist-mecca, and still feels relatively undiscovered. It's not overrun with luxury/chain hotels. You'll find yourself driving down dirt roads, popping into little surf shacks for lunch, and strolling around the cobblestone streets of the entire town in an afternoon. Because of its accessibility, Paradero is ideal for a long weekend on its own, or can easily be paired with a stay in Los Cabos for a longer trip and more variety.
Arbiter Amenities include and exclusive healing ritual upon arrival + $50 spa credit. Room rates are "experience-inclusive" and include breakfast and one experience per day. Reach out to book your stay.
*Note: while I was hosted at the hotel, opinions below are entirely my own.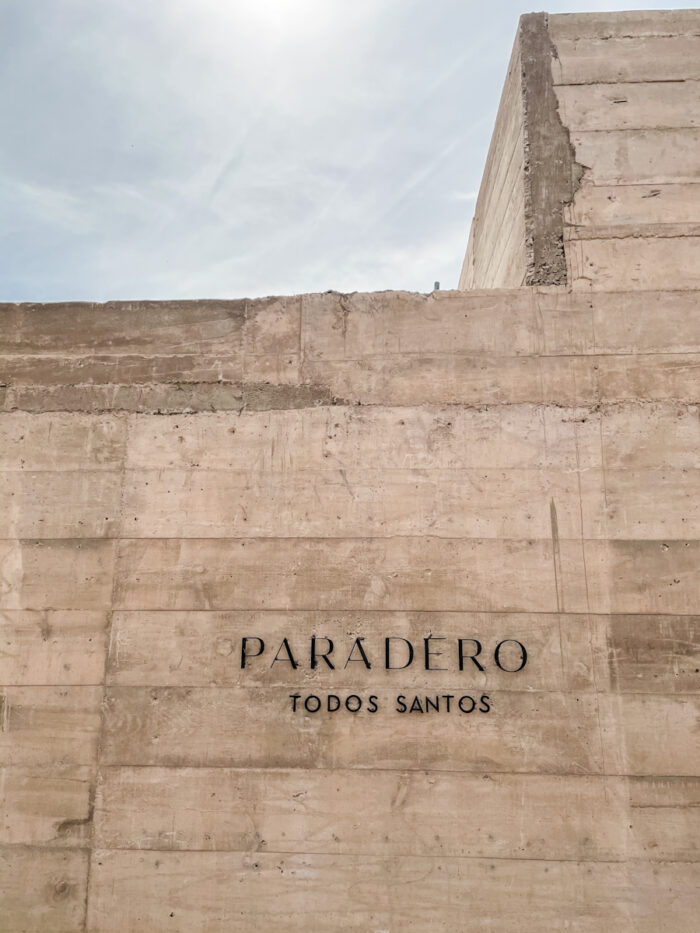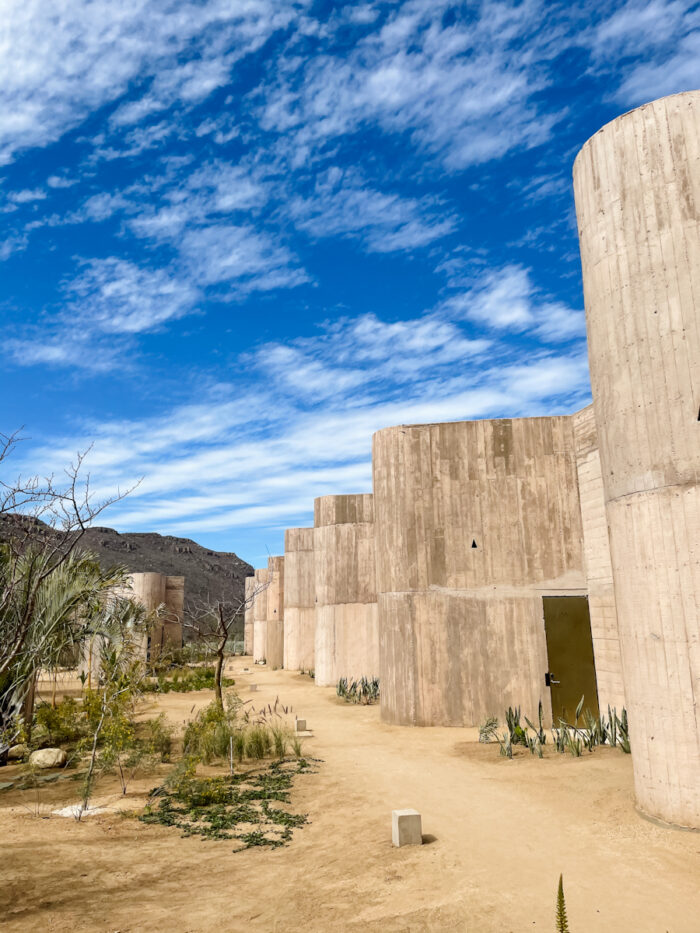 This 35-suite property is striking in design – a Brutalist desert oasis. Everything was custom-built + designed. The rooms are neutral and minimalist, with dark green textiles adding a subtle pop of color that still fits within the desert-chic palette. The concrete architecture is softened with luxurious linens and textiles, with ample [very comfortable] areas to lounge, both throughout the property and in the suites. The hotel was designed with the idea of spaces opening up – narrow doorways lead to vast viewpoints. A winding stairway opens to a spacious rooftop; a single doorframe leads to the Half-Moon Pool.
The Living Room is the heart of the property, a "multi-purpose hub of gathering and welcome." Choose from a hammock, lounge-style floor seating, or a communal table to enjoy cocktails and recapping the adventures you shared that day. In the future, local musicians will perform.
The Half-Moon Pool has views of the Sierra La Laguna mountain range, with a sliver of the Pacific Ocean off in the distance. The lounge chairs are more like daybeds, and make it hard to want to leave your perch.
Room categories include ground-floor Garden Suites (some with outdoor soaking tubs), two-story Rooftop Suites (with private rooftop terrace + "star net"), and one three-story, corner-lot Master Casita (that includes the best of both room types with both a soaking tub and rooftop terrace + star net). We stayed in a Rooftop Suite, and took in the magic of an almost-full-moon and starry skies from our star net after dinner, and the golden sunrise over the desert in the early mornings.
This is a place to unplug and unwind – you won't find a single television (or even phones or tablets!) in the rooms. But you won't be totally off the grid – Wifi is strong (and you can email the front desk with requests if you don't feel like walking over).
Though they've only been up and running for a short time, management has done a great job recruiting local staff who are passionate and knowledgeable. While they are service-oriented, this isn't a resort that will cater to your every wish and whim. The staff is friendly and accommodating. The overall vibe is laidback, so if you go into your stay with that mindset you will be happy and at peace.
Paradero welcomes families with children 18 and older (aka leave the kids at home).
Paradero is a quick hour and fifteen minute drive from Los Cabos International Airport, which operates daily nonstop service from most major airports. Private transfers can be arranged through the hotel for an additional cost, or you may wish to rent a car. (If renting a car, do make sure you have cash on-hand for the tolls.)
As Mexico's first "experience-inclusive" hotel brand, the excursions are the ethos of Paradero. The experiences were designed for guests to be able to immerse themselves in the local environment and culture.
Surf Session: Unlike many group surf lessons, the instructor to student ratio is 1:1, so you're pretty much guaranteed to catch quite a few waves. In partnership with Mario's Surf School in Cerritos, this is a fantastic way to spend the morning (no matter what level of surfer you are). A 30-minute pre-surf yoga stretch is included.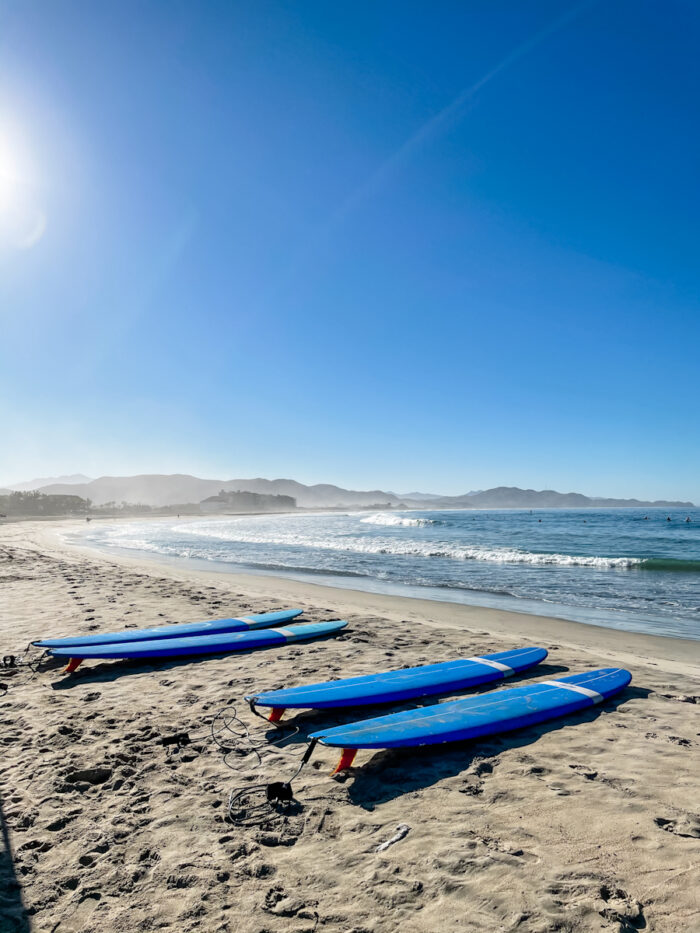 Art Walk: Todos Santos is an artists' town, and is full of amazing galleries. Our guide, Nando, was totally knowledgable and took us to the best ones. Todos Santos is still pretty small and undeveloped, so it's super cool to feel like you are getting in and perhaps discovering a local artist – before it's eventually totally overrun 10 years from now.
Baja Taco Tour: Baja is known for its fish tacos, and the taco tour shows you all of the different ways they are done. With a stop at 3 totally different spots (we visited one on the beach with traditional Baja-style beer-battered fish tacos, one in a more "up and coming" area of town that felt like a true hidden gem with insane yellowtail tostadas, and one in the main area of town that served coconut-crusted shrimp tacos). It was impossible to pick a favorite and a great way to spend an afternoon.
Beach Setup: The beaches in Todos Santos are beautiful, but Paradero is not a beach resort. This experience fills that void, with a chic picnic set-up and cooler full of cold beers (do be sure to place your drink order before departing, cold water is included).
Guided Hike: This was a highlight of the group – the guide will take you up over the mountains and down to a beautiful secluded beach.
Guided Mountain Biking: While I skipped this one, others in my group absolutely loved it. The bikes are state-of-the-art, and the views are incredible.
Learn to Farm / Garden: Todos Santos has multiple ecosystems making it an oasis in the desert. Paradero is working on becoming totally sustainable + will eventually grow most of their menu in-house. The crops have not quite matured yet, but when they are this activity will be super fun and informative. I planted a jalapeño that I hope someone will enjoy in their spicy margarita a few months from now.
Premium experiences, such as a private stargazing + s'mores set-up on your roof, will continue to be developed for additional costs and on request.
Chef Eduardo Ríos came up at Pujol in Mexico City, to give you an idea of the caliber. The menu fuses local farm ingredients (many are, or eventually will be, grown onsite in the fields or greenhouse), fresh fish, and creative, bold flavors. While it's not a health retreat, the chef prides himself in not using sugar in any of his dishes, and it definitely feels healthier than your traditional Mexican menu. The yellowtail tostada, shrimp, and soft shell crab tacos are highlights, but everything was amazing.
Meals can be enjoyed around the bar, which faces into the open-fire kitchen, or at communal tables around fire-pits. A sense of community is an important part of the hotel's mission, so in-room dining is not available. The kitchen boasts a Jasper-wood-fired oven and Oaxacan clay tortilla oven (which took almost a year for the owners to convince the maker to install!).
One note for longer stays is that the lunch + dinner menus are the same, so it is worth it to plan for at least one dinner off-property during your stay, or it may feel repetitive.
Paradero will also equipped to host specialty dining events such as weddings and retreats (which ATC can help arrange).
While the outdoor Ojo de Agua Spa is still being finished, my massage with "healer" Gaby left me with no doubt that it will be phenomenal. For now, treatments are done in one of the empty suites.
There are future plans for a fitness center, but the spa is the first priority – so for now, get your work-out in with a daily hike, bike, or swim in the Half-Moon lap pool.
*Note: Arbiter Amenities include a $50 spa credit.
A negative COVID-19 test is currently required for all travelers flying to the United States, and Paradero makes it seamless (it was also by-far the most picturesque test I have taken thus far). The test must be performed within 3 days of your departure. I took my test at 4:30pm on Sunday and received the results first thing Monday morning. Tests cost $35 per person.
Please reach out if you're interested in planning a trip! When #bookedbyarbiter, our clients get amazing perks (and usually upgrades), and we often have access to exclusive incentives. We look forward to planning your 2021 travel when you are ready!
Tags: luxury hotel, travel, luxury travel, weekend getaway, winter travel, romantic, winter escapes, couple's retreat, wellness, todos santos, mexico, cabo, los cabos, baja, Paradero, Paradero Todos Santos, experiential travel, desert

Categorised in: Travel, Destinations, INSPIRATION, RESOURCES, GUIDES, PLACES