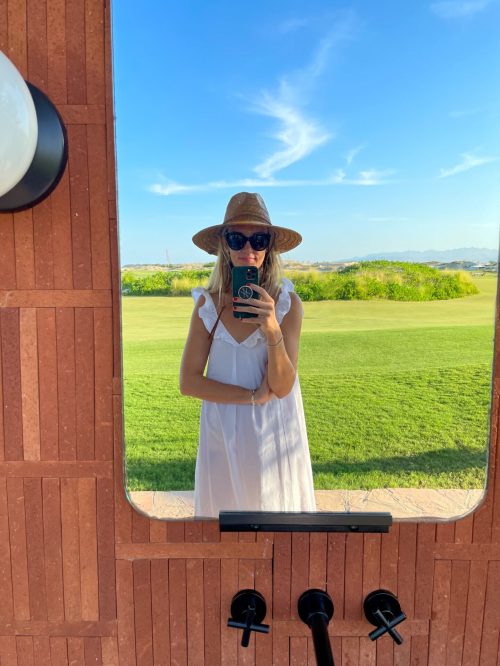 I'm back! I took January off from social media and thought this would be a good time to re-introduce myself to followers both old and new…
My name's Lauren Tulp Cichocki, and I launched Arbiter Travel Co. in 2017. As a Luxury Travel Consultant (aka modern-day travel agent), I work with select clients to curate and book trips — whether it's a one-night getaway, multi-stop trip of a lifetime, a honeymoon, family vacation, solo expedition, girls weekend, bucket list trip, or anything in between. (Reach out to be #bookedbyarbiter!)
I live in LA with my husband, Dan, our son, Henry (aka #babyarbiter), and golden retriever, Jack. When I was in second grade I wanted to be a "fashion editor" when I grew up, but alas I went to college at the University of Southern California and studied PR + Art History. I began my career in marketing + merchandising for high-end luxury lifestyle brands including One Kings Lane and India Hicks, before starting my own business. I like to think my eye for design plays a big part in how I approach travel + curate trips.
As such, I founded ATC to be a resource for discovering beautiful places and things. This account + blog focuses largely on travel, but over the past year as the world has changed, I've started to feature more things (see Field Notes) and people (see The Set). A goal for 2021 is to have more blog content and guides, so stay tuned!
Behind the scenes…
◦ I love all things paper, packaging and typography, and my handwriting is my biggest talent.
◦ I don't love to cook but love to entertain.
◦ I'm East Coast bred, I love a preppy stripe as much as an all-black or monochromatic look, and I'm a sucker for a monogram. My style icons are CBK, Jackie O, Ralph Lauren and Lauren Santo Domingo.
◦ I'm a shameless Taylor Swift fan and I know the words to most Bruce Springsteen songs.
◦ I'm a double Scorpio and a "social introvert" — I love my me time and am reticent, but I love being with friends and out in inspiring places.
◦ I used to love white wine but have recently become more of a tequila + bourbon gal. I could eat French fries for every meal.
◦ On my travels I collect art and vintage copies of Alice in Wonderland.
Thank you for following along — I'd love to hear from you too! Leave a message in the comments below, or send me a note to lauren@arbitertravel.com.
xx LTC
Tags: Arbiter Insider, lauren tulp cichocki, Arbiter Travel Co., founder